PEE PRINCESS
WETTING AND MESSING AT IT'S BEST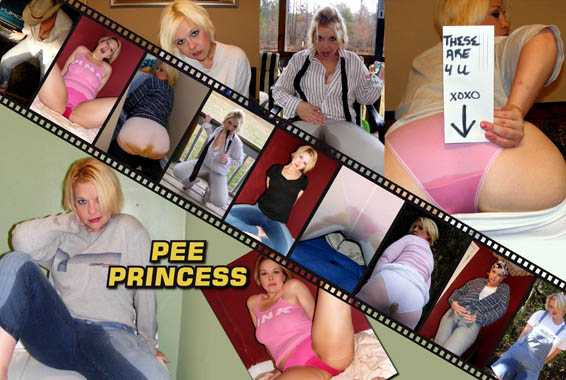 Hello Everyone! My name is MJ but everyone calls me Princess. I have a naughty mind for showing off and I love to be watched. I am an equal opportunity lover - there is nothing hotter to me that watching a beautiful woman in tight jeans wetting down her legs; but that being said, I love my men too. I especially love sharing intimate moments with someone else while they watch me make a mess of myself in my clothes.

I can assure you that I am "real". My first experience with wetting happened with my ex-boyfriend and it opened my eyes to this aspect of my sexuality. We were coming home from a party late one night, and we were totally sloshed. As we got about halfway home the urge to pee suddenly hit me hard, but I didn't want to let on to my boyfriend, as it was sort of embarrassing for me at the time. There wasn't anywhere to go, so I held it in.

I got so desperate by the time we reached the apartment building that I was almost in tears. The case of beer I had been drinking all night had to go somewhere, and my body suddenly took over. I started peeing down my legs in skin tight jeans, a tight white tank top and black high-heel boots. I soaked them all. I was so embarrassed to do it in front of my guy, but to my shock he told me how hot I looked! The second we got inside, he totally sucked and licked me with my clothes on, then peeled them off me until I had the most intense orgasm of my life. I was never the same after that. Can you imagine holding back an orgasm every time you have to pee?

Since that time I have been lucky enough to explore all aspects of my fetish lifestyle - you name it and I've probably tried it. But my true love is for wetting and messing myself! Welcome to the world of the "Pee Princess"!