IN THIS ISSUE
Ruby, Jewels and Candy Wild Canadian Wetter Wila Conchita and Bethany
Wetters' Letters
Diaper Girls: Bridget, Tammy, Parisa, Ebony, Kate Fact & Fantasy
'Sealed' Pooping Section
Ads & Aunt Elli
Wetly Yours, Jackie
So don't miss out on all the hot, wet and sexy fun.
DOWNLOAD YOUR COPY TODAY!!
------------

All Photosets featured in Wet Set Magazine are also available for DOWNLOAD
WILD WILA
Our public pisser has got somewhere she shouldn't and this grand old staircase is making her want to be very wet and wild. She's unsure where to pee first, and wants to get her pussy out to play. Watch Wila finger herself, spurt pee, and soak that beautiful wooden staircase without a care in the world for whomever may be below. She's a wet, wild and very sexy Canadian girl who just loves to pee.
LOTS OF LOLLY
Our blue-eyed brunette diaper queen Lolly is back! It's hot to see such a sexy girl obviously feeling sexy wearing a disposable diaper. This is your chance to enjoy a really beautiful girl, who really enjoys your fetish. A gorgeous girl looking like anything other than the girl next door, but she's real, and gets off on posing for us all in her diaper.
Do you think it's wet?
PARISA
She's one of the sweetest baby girls I have seen for some time - a mere twenty years of age, and full of laughs, smiles and giggles as she turns this way and that, showing off her well-padded diapered behind. There are pacifier/dummy photos, drinking cup photos as she enjoys her milk and shy peek-a-boo games as she takes off her top and plays with her boobs.
BABY BRIDGET
Bridget loves being babyfied - check out her babyish top and her Tweety Bird Pilchers! Underneath she is padded up with a warm, dry cloth nappy. See her bounce on the bed (naughty girl), pose for you, drink from a little girl cup, and suck on a pacifier. When she turns her big blue peepers to you, it's hard to ignore her desire to be your little baby girl.
JEWELS IN PINK
Jewels has a beautiful bashfulness as she becomes pissy in pink shorts and panties. Watch as her desperation builds, then pee escapes through her shorts and panties. Wet and aroused she peels off the layers showing you her wet knickers then pees some more. Her thighs drip with pee as she pulls the wet fabric from her pussy.
CONCHITA
Fancy a spot of golf? Conchita enjoys it when she can, but long games mean long waits to pee, and on this day our blonde heroine finds herself full on the fairway. Ever the problem solver, Conchita walks off into the forest and pisses from her bare pussy to her heart's content . Its a shame she didnt wear a nappy today, she's usually more well-prepared for sudden accidents!
MORE MADDY
Blonde Maddy was trying her hardest to clean up the flat before her boyfriend got home, but with her weak bladder, splashing around in the sink had dire consequences- her blue jeans are absolutely soaked! Can she get them off in time to greet him naked, rather than pee covered and disgraced?
COOL CANDY!
She's ready to hit the courts, but instead of tennis, she's got her bladder on her mind! Cute Candy could be a Tennis Australia poster girl in this little outfit. See her serve up a big wet spot as she sends streams through her pink panties as she looks around to see if anyone notices her naughty wet antics.
WET, SEXY TAMMY
She's blonde, sexy, and she loves wearing and wetting disposable diapers slowly.She struggles to get her jeans down before she fills her disposable, and shows off with the overflow, undoing the sides and letting you see her bare pissing pussy. Tammy is one sexy girl, who just loves peeing in, and outside of her diapers.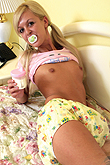 Photoset #0586
Kate loves doing this stuff in private, but showing off her fetish is making her giggle. After all, how many other nineteen year old leggy blondes like to put their hair in pigtails and drink from a baby cup? As we try to put Baby Kate at ease, she starts to relax and show off the baby girl she likes to be inside - it's quite a thing to watch her become!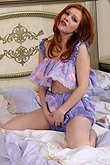 Photoset #0586
She's a gorgeous red-head with a sparkling smile, playing in a fitted cloth nappy covered with a lilac pair of frillies, and a matching frilly top. She's being very playful and pretends to be shocked when she does wees into her nappy. But somehow, I don't think it's the first time that this bouncy girl has wet her nappy!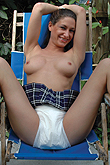 Photoset #0562
Ebony is a very confident girl, she likes the idea of guys looking at her sexy body. Watch as she slowly pulls a pair of pull-ups over her shaved pussy. The hot contrast of tanned skin and white disposable is very sexy. Her look is a bit sexy secretary, in stern glasses, but she's definitely a naughty diaper wearing secretary!