IN THIS ISSUE
We bring you a tribute to the girl-next-door! Sophy, a real life wetter from the US, Rhiannon, a saucy British wetter and her countrywomen cover girls Rosy & Christie, Harmony, Ayla & Verity-Rose, plus a very sexy Aussie girl called Reina. Meet diaper-girls Lilly & Tiesha as well as Wet Set favourite Antonia. We are happy to bring you three new poopers - Magdalene, Lizzie & Ryba. Thatís almost fifteen... so who am I missing? Ah Barbie, how could I forget her? Phew!
Wetly Yours, Jackie
So don't miss out on all the hot, wet and sexy fun.
DOWNLOAD YOUR COPY TODAY!!
------------

All Photosets featured in Wet Set Magazine are also available for DOWNLOAD
SWEET ROSY
Our newest cover girl is pretty little Rosy! She's fond of experimenting with how much pee she can hold, and letting it out all over her backyard. You'll love watching her long, thin thighs get soaked with pee. Her panties get soaked, the fence is splattered - it's a very wet, very sexy experiment.
But never fear, Rosy's not just an enthusiastic wetter- she loves to wear nappies too!
RHIANNON
Rhiannon is a saucy British girl who got into wetting when she peed herself while waiting for the toilets at an outdoor music festival. We have a selection of pics of Rhiannon, and in this set she lets loose as she walks up the laneway home. Her panties are soon soaked, and her dress gets splashed too. She doesn't seem to care, as clouds threaten rain, and she's nearly home anyway!
REBEL REINA
Her quirky sense of style was only one of the things that made me ask Reina to model for Wet Set. It's a treat to feature someone of Japanese heritage in the magazine. One of the sexiest things Japanese wetters do is cover their hand over their mouth when they are embarassed. I was delighted when Reina did this after peeing at a bus stop!
DIAPERED ANTONIA
Gorgeous brunette Antonia's been locked out in her disposable Princess diaper no less - she's already filled it all day, and now she's got to go again! After filling it totally to capacity, she peels it open and pees openly all over the pavement. After all, it was hardly her fault - a diapered girl's gotta do what a girl's gotta do!
VERY SAUCY VERITY-ROSE
Diapers make Verity-Rose feel sexy, kinky and naughty; so do long zip up black shiny boots, so it's only natural that she wants to wear the two things together! Watch this full-figured girl put on a disposable over her bare, hairy pussy, then slip on her boots. She's clearly getting very moist inside her diaper!
BABY BARBIE
This is a baby girl who'll break a few hearts - Barbie's big baby blues are almost as sexy as her padded behind. She's got a pacifier, and a little girl drinking cup, and she's absolutely divine. Would you like to be her "Daddy", and stare into those big blue eyes? I bet you'd buy her a pony!
CHRISTIE
Christie is hanging out her rather extensive panty collection. She pees a little through her panties, then lets out long gushes straight from her pussy. When she's done she uses her panties to dry her dripping pussy. They smell so sexy she hides them in her pocket for secret sniffs. Shh... don't tell anyone!
NIKKI
At five feet, three inches, Nikki is a petite and pretty twenty-four year old baby girl from England. Our publisher Paul went to meet her and she's REAL! She loves to have accidents and wet her big-girl clothes, so its best to put her in a nappy! She likes to share her interests and fantasies using her webcam!
HARMONY
She's a pint sized platinum blonde and she loves to wet - what could be better? Harmony is a favourite at Wet Set because she really likes to wet and she really loves to show her wet panties off! enjoy seeing her wet through her cotton panties, and get a nice back-view of her bare pussy pissing.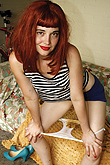 Photoset PX#0024
It's a messy adventure, but at least she's got her lippy on! Lizzie is super cute dirty girl who likes watching her poop smear in her tight white panties. She's having some issues with it squeezing out the leg bands too - it's a shit-smeared mess for sure! Her big smile shows you she's enjoying every second of making this mess too!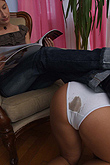 Photoset PX#0015
That crazy hostel owning bitch Jane is at it again! She's got poor Ryba thinking she has to be a foot-rest, and she's ignoring Ryba's obvious need to go to the toilet immediately! As a dirty great mudslide grows on the crotch of Ryba's white panties, Jane keeps her feet up on her back and secretly watches the growing dirty stain. I'm starting to suspect that Jane might have a pooping fetish!

Photoset PX#0022
When will these back- packers learn to clean up their own mess? A busy Jane leaves Magdalene tied up on a chair to think about her crimes, but all Magdalene can think about is getting a warm load out of her tight sphincter and into her tight pants! She pushes hard, but the load just budge so she bends forward to stretch the panties to give it the space it needs.