IN THIS ISSUE
Lora, Cheri, Elkie
Real Life Diaper Twins
Welsh Wetter MyFanny
Wetters' Letters
Accident Report: Peeing Petra
Diaper Girls: Nikol & Jasmine
Fact & Fantasy
'Sealed' Pooping Section
Ads & Aunt Elli
Wetly Yours, Jackie
So don't miss out on all the hot, wet and sexy fun.
DOWNLOAD YOUR COPY TODAY!!
------------

All Photosets featured in Wet Set Magazine are also available for DOWNLOAD
LOVELY LORA
Lovely Lora is a stunner - she's got legs that go on forever and they're covered with pee. Under her short pleated grey skirt she has on her special "wetting panties" - an old-fashioned pair of bloomers that show up stains a treat! See pee pour down, as she shows little care for who is watching, taking off her peed panties at a very public street corner.
REAL LIFE DIAPER TWINS Check out Aussie twins in matching disposable diapers! Barbara and her twin sister Sally-Ann enjoy doing most things together - even wearing diapers. They're hanging out on the couch watching some daytime television and by the looks of things, it's a bit boring.
SWEET CHERI Our cute redhead, Cheri Spencer, has her hair in plaits. She's a very cute baby, wearing just a disposable diaper most of the time as the exposure of her diapers excites her. She likes to carry around a dummy too, and sucks on it occasionally.
"Lora has a wicked streak...and when she's feeling wicked, she likes to leak!"

"What other fun activities could two twin sisters in diapers get up to I wonder?"

"Luckily her disposable allows for her to skip any time-consuming toilet breaks."

WELSH WETTER MYFANNY
Myfanwy is a Welsh chronic pants wetter. Even before she leaves the door to go to work as a librarian, she's already wet the bed! And then she begins her day with a wee on the way to work in the park. Sitting at her desk she then plans a bit of wet fun during her lunch break!
DIAPER GIRL: JASMINE Wearing a disposable nappy, Jasmine is just an ordinary girl, getting on with ordinary tasks. She's doing wees in her nappy when she needs to, sitting down to enjoy the feeling. It's sexy to watch a pretty blonde girl wear diapers as if it is nothing unusual to do!
NAPPIED NIKOL Pretty blonde Nikol is a Russian girl with big blue eyes. She likes wearing cloth nappies, and covers them with pretty pink plastic pants, with prints on them!
ELKIE
Elkie is a chronic pants wetter and has to carry a spare pair of panties in her bag, but often it means she eventually pees them too!
PEEING PETRA
Petra is off seeing the world, and hotel rooms can be lonely places. But fun can be had when struck by sudden, urgent desperation that leads to her pissing her tight blue jeans quite thoroughly.
CANDY CRAPS HER PANTS
Our retro glamour-puss Candy returns, with a more mischievous mission. She's a dirty Miss indeed - watch as she wees, and then fills her pants with poop. Dirty bottom, dirty girl - lots of messy fun!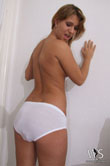 Photoset #PX0012

Cutie Teodora has a sparkling smile, and she's very eager to poop her white cotton panties for the camera. The panties fit well, and you can really see them stretch out as she fills them slowly. Plus there are great facial expressions as she starts to feel that critical rumbling! You even get to see her warm mess... But wait! Whose is that mysterious female hand holding out her panties?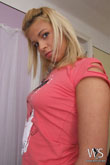 Photoset #PX0013
Jane runs a back-packer's hostel, but she doesn't accept any shit (if you'll pardon the pun) from her all-female guests. Milena went to the beach for the day without making her bed, so Jane made her stand on it until she pooped herself when she returned to the hostel! What sort of strange torture is this?!? But her rooms are very well priced, so Milena suffers the humiliation of a full load in her panties.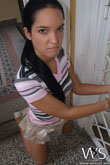 Photoset #PX0014
Zophie is cuffed to her hostel room's door, out on the common veranda for all to see? What has this beautiful brunette done to deserve such a humiliating punishment? She looks angry and agonised. Her skirt is so short you can see her panties. But wait! Is that a growing bulge I can see? She's not pooping herself is she? Oh dear, I think she is...